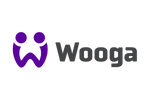 Company Size: 300
Saarbrücker Straße 38 10405 Berlin Germany
Founded: 2009
Each of our 300 Woogas plays an important role in growing our success as a company and in shaping our company culture towards inspiring joy in work and play. We are proud of our razor-sharp focus on story-driven casual games, the excellent craftsmanship we put into them, and our truly collaborative way of working.
At Wooga, we want to create joyful experiences that awaken our players' desire to see what happens next. We want to encourage players to become part of exciting worlds and to touch their hearts with our games, where their actions drive the story forward. Our aim is to become the players' choice for story-driven casual games, and to inspire joy in work and play.