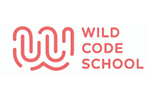 Company Size: 100+
Oudenarder Str. 16, 13347 Berlin
Founded: 2014
Wild Code School is a European school network that prepares students to excel as professionals in the tech industry. Our innovative approach to education equips students with the proper technical skills to succeed in web development, cybersecurity, and data analysis.
Our multifaceted methodology is founded on our expertly-crafted curriculum, personalized career coaching, and the completion of a digital portfolio; we also help build a strong foundation for our students' technical knowledge to ensure that they continue to learn after they have graduated.
We optimize our strong connections to the local tech industry to provide the best hands-on learning experience for our students.
With our global network, our international community of students and alumni stay connected to support each other's growth throughout their professional journeys.
Boasting 24 campuses across 11 countries Europe, Wild Code School has created an expansive community of over 2,000 ambitious students who leave our programs with robust technical skills, polished professional portfolios, and a network of like-minded professionals. Our program provides connections to over 1,000 partner companies, which is why 90% of our alumni start working in the tech industry within 3 months of graduation. We also host events such as Hackathons and Demo Days to show our students what it's like to work in a team as a computer programmer or data analyst.