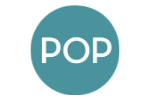 Company Size: 75
The Tea Building Shoreditch High Street
Founded: 2014
We are POP
We Got POP is on a mission to drive a smarter, fairer future for entertainment by building technology to digitise, connect and open the industry. POP's platform equips clients with real time oversight, actionable data insight and optimised workflows to proactively manage all of the people, across all of their productions. Each portal provides a secure and streamlined process for production companies, their productions, crew, casting directors and background artists; revolutionising the way people in production are found, hired, managed and paid. 
In 2019 some portion of POP tech powered over 60% of all UK HETV production including Killing Eve, 1917 and The Crown, revolutionising the way people in production are found, hired, managed and paid.
POP'S STORY
We Got POP was founded by Kate McLaughlin in 2014 with a vision of a smarter, fairer future for entertainment. With headquarters in London and New York, POP is the industry's leading technology innovator, building technology to digitise production processes; connect the industry and open access to opportunity and insight. 
POP launched in 2014 with its first product. The Casting Portal has revolutionised background casting by making the casting process more efficient, transparent and secure, facilitating the next generation of casting talent to transform the way they work. By 2019 over 60% of all extras casting in the UK was powered by POP technology including The Crown, 1917 and Star Wars: The Rise of Skywalker. POP successfully launched into the US in 2018 and is currently being rolled out across Central Casting, the leading background casting company in the US, casting thousands of roles everyday, now powering the majority of the market in the UK & US, POP is the most widely used casting technology in the world. 
With the Casting Portal well established POP expanded focus to meet the needs of production companies. POP's next game changing technology, the Production Portal provides a standardised and secure framework for production companies to manage all of their people across all of their shows, providing access to real time oversight, insight and confidence in compliance. Launched in 2019 the uptake has been phenomenal; POP now has 25+ of the UK's leading production companies running all of their shows through POP including the creators of Killing Eve, Peaky Blinders and Call the Midwife, and this is growing monthly.
In line with POP's commitment to drive change in the industry they soft launched their latest product, the Crew Portal in 2020, which gives crew access to the best job opportunities, industry insight and the ability to grow their network. Already POP have helped talented crew land roles on some of 2020's biggest releases, including Gangs of London, Dracula and several major feature films. During lockdown POP launched virtual networking for crew to speed meet and greet hirers outside of their network in a time efficient and safe way. Within a few weeks this model has made an impact and is set to be adopted by major TV shows to help them hire a diverse crew, beyond their current network. 
POP is set apart by their approach; industry partnership and meaningful collaboration which ensures the technology meets the industry's needs today, and keeps abreast of their future needs. This partnered approach has seen POP become a force for change in the industry with the industry frequently turning to POP for solutions to wider industry challenges. This approach saw POP use production's down time as a result of COVID-19 to refine their response and partner with clients to create a solution to a new need for a 'fit to work' check and alert system. With the added 'fit to work' check and alert feature the Production Portal is the one touch free, cloud based solution production companies need to get their production teams safely back on set. Entertainment's need for cloud based technology has never been stronger; the Production Portal is powering over 50% of UK's HETV restarting productions post COVID-19 and is in conversations with many new production companies now exploring cloud based tech. 
Starting with a co-founder and a vision for a smarter, fairer future for entertainment Kate has built a team of 54 (including a 75% female senior leadership team) to create an industry disrupting and leading business, revolutionising the UK film & TV industry and taking major strides to replicate this success in the US and beyond.  
POP raised £4m in investment from Octopus Ventures, Pinewood Studios and others before finding a partner in industry giants, Entertainment Partners who acquired POP in March 2020 to partner in a shared mission to be the production partner in entertainment's journey to a smarter, fairer future.