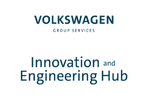 Company Size: 40
Quinta da Marquesa IV, 2950-677 Quinta do Anjo
Founded: 2021
The Innovation & Engineering Hub by Volkswagen Group Services, in Portugal, delivers groundbreaking solutions together with our stakeholders, by developing sustainable and market oriented products as well as innovative services. Volkswagen Group Service is positioned in the market with a broad range of automotive services, and supports the core business of Volkswagen, other brands and organizations.
With an ongoing partnership with MAN Truck&Bus, the creation of this HUB arose from the need of a new Center of Innovation and Engineering to be in charge of several IT projects, in the area of automobile products (such as trucks and transport vehicles). This HUB was born out of an idea for a strategical project that longs to build innovative solutions, for vehicle systems, that enable a strong growth of digitalization. Located on the heart of Lisbon, Bairro Alto, the ride has just started and we're all in!