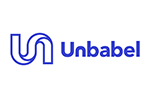 Company Size: 51-200
Rua Visconde de Santarém, 67B 1000-286 Lisboa, Portugal
Founded: 2013
Unbabel is "Translation as a Service" platform allows modern enterprises to understand and be understood by their customers in dozens of languages.
Powered by AI and refined by a global community of tens of thousands of human linguists, Unbabel delivers professional-grade content at the scale required by modern enterprises like Pinterest, Skyscanner, Under Armour and Rovio.

Backed by Scale Venture Partners, Notion, Microsoft Ventures, Salesforce Ventures, Samsung NEXT and Y Combinator, Unbabel is accelerating the shift to a world without language barriers.