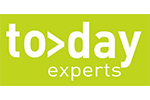 Company Size: 55
TODAY Experts GmbH Office Campus Gasometer Guglgasse 15/4b/3.OG, 1110 Wien
Founded: 2010
TODAY Experts recognized years ago that the IT job market is becoming more specialized, faster and more flexible. That means a big challenge for companies and IT experts
TODAY Experts knows the IT market like no other. We experience the field of tension between IT personnel and the market very closely and are networked with highly qualified experts *. This knowledge and network is the result of years of expertise and intensive work. This ensures the solution that best moves you forward.