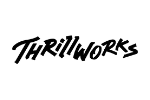 Company Size: 50
invoices@thrillworks.com
Founded: 2000
We are a team of makers, thinkers, and technologists here to craft digital experiences end-to-end.
Well established for over 20 years, Thrillworks has created a legend, amongst our discerning clients, for high-quality work and uncommonly delightful service. We're somewhat unique in our industry — we are not a digital agency, a software development shop or a strategic consultancy. We are much more than you could get from the sum of those individual parts.