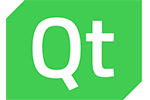 Company Size: 201-500
Rudower Chaussee 13, 12489 Berlin, Germany
Founded: 1995
The Qt Group (Nasdaq Helsinki: QTCOM) is a global software company with a strong presence in more than 70 industries and is the leading independent technology behind millions of devices and applications. Qt is used by major global companies and developers worldwide, and the technology enables its customers to deliver exceptional user experiences and advance their digital transformation initiatives. Qt achieves this through its cross-platform software framework for the development of apps and devices, under both commercial and open source licenses.