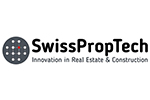 Company Size: 2-10
Hinterdorfstrasse 21, 8314 Kyburg, switzerland
Founded: 2016
SwissPropTech bridges the established real estate & construction industry with innovative PropTech companies in and around Switzerland.
Together with our Members, we want to improve the way buildings of the future are designed, delivered and managed through the use of technology.
SwissPropTech is an independent innovation network that supports native and foreign property technology companies to grow their businesses on national and international real estate markets.
Together with our strategic partner Swiss Circle, we encourage the Swiss real estate and building industry to boost innovations to get ready for the digital age.