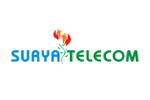 Company Size: 10
Sector 3 Panchkula (HR)
Founded: 1998
Surya Telecom Pvt. Ltd. was set up by first-generation entrepreneurs in 1998 and since then it has been focussed on providing communication and electronics systems solutions to Police, Paramilitary, and Law enforcement agencies. Besides these main customers, Surya has serviced clients like Oil and Gas fields, Power generation & distribution organizations, Forest guards, and other utility organizations. Today, Surya counts among its customers virtually every law enforcement organization in the country.
Surya Telecom started with a primary product range of wireless communication products and related system solutions and has supplied wireless systems in HF, VHF, UHF, and other brands in also distribute IP/Broadband radios, Video Surveillance Solutions, High-end security and safety products, Asset tracking systems and Passenger Information Systems. The focus has been on providing complete end-to-end solutions to various customers like Prison Calling System, Dial 100, Wi-Fi Monitoring System, etc. The services provided also include the operations and management of networks besides the supply of equipment. Providing turnkey solutions has been a strong area for Surya Telecom.
Several product offerings are available on the DGS&D rate contract in India facilitating the induction of products with various government organizations.  Besides a direct sales force, Surya also has a network of dealers all across the country. Well-equipped repair centers support the customers by promptly providing maintenance or repair services. The wireless labs are equipped to handle the service of multiple brands of radio equipment.
Throughout its existence, Surya has brought high-quality and high-reliability products to India from world leaders. Promoting products that are world-class in quality yet Indian in prices has been a strong focus area for Surya. Most of the existing principals are the technology leaders in their domain and Surya has been able to introduce complex technologies to various users in India. Surya is a nimble-footed organization that responds quickly to the needs of its customers.