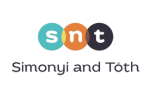 Company Size: 8
1015, Budapest, Szabó Ilonka u. 71/a
Founded: 1992
Who we are?
SnT is a Budapest-based HR consultancy and recruitment company focusing on the connection between people and organizational cultures and how they can thrive in our digital age.
People – People are at the heart of our business. Our mission is to match people and the right organizational cultures.
Organizations – We believe in long-term partnerships with businesses, helping to shape their organizations and improve their employee experience for their current and future workforce.
Technology – We believe that using the latest technologies enables us to focus on the needs of people and organizations. We also help our partners with new technology solutions but still keep people in focus.
Our parent company – Simonyi and Tóth – has more than 30 years of experience in executive search and leadership development. We leverage their expertise and experience in building partnerships with our clients and providing specialized solutions for their organizational challenges.
We also partner with Social Capital Tech IT consultancy company. They deliver technology with people focus, which is the section of what we believe in. Together we can deliver complex solutions involving people and technology. Their expertise in IT and technology help us stay up-to-date and relevant with technology novelties.