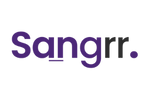 Company Size: 10
Sangkriti GbR Pratyasha Singh Bessemerstr. 82, 10.OG Südturm, 12103 Berlin
Founded: 2021
Online platform providing live lessons in Global languages (German, French, Spanish), Dance, Music, Yoga, Art.
Sangrr. is not the usual story of friends jamming together and fulfilling their dreams. It is an unusual story of three strangers who happened to cross paths and shared their desire to help people pursue their passion using the power of digital media. Their zeal to lay a strong foundation for learners to learn the language, music, art, and fitness of their choice from the best teachers is what blossomed sangrr. After a careful selection processes, a handful of expert trainers with oodles of experience behind them with brilliant knowledge of handling students were chosen. Sangrr. takes immense pride in having them as a part of their crew.