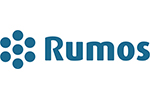 Company Size: 240
Ed. Mirage - Entrecampos Rua Dr. Eduardo Neves, 3 1050-077 Lisboa, Portugal
Founded: 1992
Rumos was a pioneer in the Training and Technical Certification of IT professionals in Portugal, being currently the most representative company in this market segment.
In order to ensure an immediate and updated know-how, Rumos develops partnerships with brands of representative manufacturers, thus obtaining the recognition of the national and international market in IT competence.
Dedicated to Information Technology Consulting, Rumos' services area has solutions in the areas of Cloud, IT Outsourcing, Enterprise Productivity & Collaboration, IT Service Management and Managed Services.
Rumos delivers an annual average of 550,000 hours of IT consulting and has a team of about 250 certified professionals.