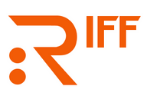 Company Size: 5
1090 Lambton Drive Oakville, ON L6J 7P3
The industry is filled with growing creators around the world, but managing content creation seems impossible to navigate as social media and other technologies present a tsunami of information that is difficult to sort through. As of right now, you have two possible options as a creator when building your business:
1) Pitch to management/labels who only have the ability to serve 5% of creators while charging 80% of your revenue, or 2) Run as an independent which is 95% of creators today, who often get overwhelmed with the additional business work that they need to mitigate. There is a lack of business support for creators, making the process of creator development inaccessible and extremely difficult. As such, Riff wants to decrease the industry gap and help struggling independent creators identify, learn and complete the right tasks to build their business. The virtual business partner operates on three pillars: first, it optimizes audience and revenue growth using AI-driven recommendations. Second, it improves efficiency through tailored flexible checklists and relevant tutorials/ tasks. Lastly, Riff motivates productivity with personalized coaches and a scalable feedback system.