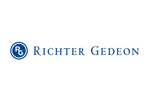 Company Size: 12262 - worldwide
Richter Gedeon Vegyészeti Gyár Nyrt., 1103 Budapest, Gyömrői út 19-21.
Founded: 1901
Headquartered in Hungary and founded in 1901, Gedeon Richter Plc. is an innovation-driven specialty pharmaceutical company. The activities of the Hungarian-directed multinational company are vertically integrated and involve pharmaceutical manufacturing, research and development, sales and marketing. Richter's goal is to help the public fight off illnesses with innovative products and, by doing so, help improve the quality of human life.
Why Richter?
Richter is an appreciative and attractive workplace that offers meaningful and responsible tasks. Regardless of the position, you contribute to Richter's global impact every day, and you always have the opportunity for professional and personal development.
Who are we looking for?
Based on their experience, education and interest, we offer our future employees jobs and career opportunities in many areas: from pharmaceutical research and development, through manufacturing and packaging, to sales and logistics.
We are not only looking for colleagues in engineering, research, development, production and trade. We also welcome applications by qualified professionals for positions that provide a stable background for our business and operational processes: technical and maintenance, operation, and IT.