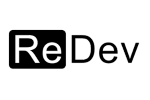 Company Size: 18
Strozzigasse 32-34 Entry 1 Number 7
Founded: 2022
ReDev is an AI-based Recruiting platform for IT professionals.
We provide a safe and efficient place for you to grow, communicate and get jobs JUST based on YOUR SKILLS. Get your dream Job with ReDev in 10 Days.
All other things like Nationality, Gender, and Religion do not matter.
The only thing that matters is YOUR SKILLS.
NO HIDDEN COST, NO FEE, A LIFETIME FOR FREE!
VISIT US, WE SPEAK THE SAME TECH. LANGUAGE.