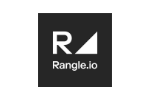 Company Size: 120
130 King Street West, Suite 1800 Toronto, ON M5X 1E3 Canada
Rangle is a product transformation consultancy that partners with enterprise-level companies and scale-ups to solve their most complex digital challenges. Our expert teams work directly with clients to embed the practices of leading companies by co-creating goals, growth strategies, processes, and products. 
We work smart, and we work fast—We've delivered best-in-class apps in three months, and can guide any organization to launch a design system within three to six months, using our open-source accelerators.