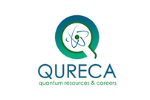 Company Size: 5
272 Bath Street, Glasgow, Scotland, G2 4JR
Founded: 2019
At Qureca we are creating global opportunities with Quantum Technologies. Our services range from business development and business intelligence, to the training and resourcing of quantum talent around the world. With links to major stakeholders in the international quantum community and industry, Qureca offers the first global recruitment and training platform to bring together businesses with quantum-ready individuals. Our goal is to facilitate the quantum ecosystem and help both businesses and the workforce to be part of the Quantum Revolution.
At Qureca, we speak Quantum!