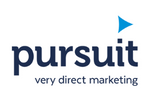 Company Size: 500
PURSUIT MARKETING, 131 MINERVA STREET, GLASGOW, G3 8LE
Founded: 2011
At Pursuit Marketing we help our clients grow…closing more sales, more effectively, more often. We have been successfully delivering campaigns in the Technology and B2B marketspace for over a decade, with exceptional results. At Pursuit, we establish and develop your business's 360 marketing communication strategy to guarantee ROI and drive revenue with a unique, blended approach to demand generation.
Pursuit works with every client to ensure all marketing communications are truly integrated.  Our Award-Winning team of consultants and marketeers deliver a unique demand generation service.
From creating demand online via our digital marketing department…through to generating qualified leads and appointments within our telemarketing division, we offer a true 360 marketing solution for your business.
Inspiration, Innovation, Integrity, Transparency, Excellence and Wellness have been at the root of our core values since inception. They are at the heart of everything we do at Pursuit and provide the focus and sense of common purpose that ensures we are doing the right things in the right way.