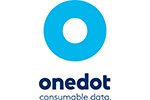 Company Size: 15
Rütistrasse 16, 8952 Schlieren
Founded: 2014
Onedot was founded in 2014 to make unstructured and messy product data easy consumable by applying self-developed artificial intelligence.
We are a rapidly growing Swiss SaaS startup offering commerce and industry the first intelligent platform to source, onboard and distribute product data. Public companies with a global presence and rich history, as well as some of the fastest-growing e-commerce startups, are part of our expanding international customer base.
At Onedot, you will embed yourself into a demanding but exceptionally inspiring environment with lots of room for personal growth. We are looking for colleagues who want to have a meaningful impact and shape our trendsetting product and company. High-quality work is rewarded with a steep learning curve, lots of autonomy, responsibility and swift decision-making. Become part of a multi-cultural and multi-faceted team led by the founders. Talented, curious and committed human beings from all over the globe are looking forward to your ideas and taking you onboard.
Onedot designs and engineers proprietary machine learning algorithms, probabilistic/statistical methods and advanced text understanding because existing approaches do not go far enough. Our technology achieves human-like performance and has already been trained with over 100 million different products.
Onedot is a startup backed by well-known international venture capital firms and world class entrepreneurs.