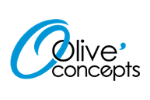 Company Size: 22
410 Royal Square Nr Kapodra Utaran Bridge, Utaran - Surat 394105
Founded: 2010
Olive Concepts is a web development company established in 2010. We provide end-to-end solutions in Web applications, Mobile apps, and Web Design. We work with organizations and agencies to accomplish their vision and assist them to grow with our solutions. We specialize in WordPress, Shopify, and Magento web development.
We are a team of 24+ professionals comprising creative designers, web developers, programmers, and project managers. Our mission to create professional & versatile themes, plugins & extensions for WordPress And Shopify eCommerce. Some of our clients include Canada, USA, UK, Australia, Germany, and many other countries.