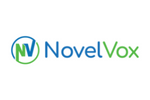 Company Size: 130
6th Floor, SSR Corporate Park,609-610, Mathura Road, Faridabad-121003
Founded: 2008
NovelVox is a leader and pioneer in providing industry-specific contact center agent desktops and wallboard. We are accredited by Cisco as a Preferred Solution Provider. NovelVox has a worldwide customer base and has offices in five countries across the globe – India, USA, UK, UAE, and KSA. We are growing at a tremendous rate with 150+ global deployments across many business verticals, including Banking, Telecoms, Logistics & Travel, Healthcare, Government, Education, and Retail.
The key to our success is easy customization; our Finesse Gadget Designer is one of a kind drag and drops designer studio in the world. It enables our partners and customers to rapidly develop/customize Cisco Finesse Agent desktops – which are at least 20 times quicker than the conventional methods that you find in the market. As a result, it helps in bringing down the development costs and enhances the end-user experience.
Why we?
Nurturing Work Environment
Work-Life Balance
Focus on capability Building
Opportunity to Learn and Grow
High Performance & Rewarding Culture
Amazing Talent Engagement Opportunities
Engagement at the core
Industry benchmarked Salary
Work from home