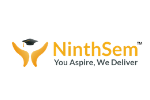 Company Size: 20 full time, 100+ part-time & interns
Avyukt Edutech Pvt. Ltd., #404, Ashok Vatika, Chakeisiani, Bhubaneswar, Odisha, India - 751001
Founded: 2020
NinthSem is India's first and only skill-based e-learning platform that provides training and guidance to Engineers and aspirants of the Core and Non-IT Industries. We have been recognised by Department for Promotion of Industry and Internal Trade (DPIIT), Ministry of Commerce and Industry, Government of India for helping engineering aspirants of core industries to graduate with industry-ready skillsets.
For delivering industry-ready skills, we provide a flagship programme that is known as 'Certification Course on Industry Module(CCIM)' which is a branch-specific certification course covering all the engineering sectors pertaining to that branch & delivered through pre-recorded video lectures by our experienced Industry Experts.
We have 'Industry Experts(IE)' from every core engineering sectors to deliver the industry-specific knowledge & the student can get good exposure to build potential networking because our Industry Experts are from the big names like "TATA Motors, TATA Steel, Reliance Industries, Adani Power, TATA Power, Godrej groups, Hindustan Aeronautics Ltd, Punj Lloyd, Simplex Infra, Sapoorji Pallonji, Sobha Ltd, Prestige Ltd, Godrej Properties Ltd, JMC India Ltd, Ahluwalia Contracts (Ind) Ltd., Afcons, TATA Projects Ltd, TATA Consulting Engineers Ltd, CBRE, JLL, Colliers, Synergy, Cushman Wakefield, ABB, L&T, BEL, Bajaj Elect, Crompton, Siemens, Wipro Lightings, Alstom, Kirloskar, GVK, GMR, Honeywell, Schneider Electric etc."
So far we have collaborated with 65+ Engineering Colleges (Degree & Diploma) & Corporates across India to bridge the learning gap between the industry and institute.
Click here to know about our company in detail. Please find our 'Brochure' & 'Course Outline' in the attachment of this mail. Also, by clicking these link texts have a look into some of the sample concept videos & the explainer video to know more about us.
We believe in the potential of this country and we aim to help millions realize their true potential. Looking forward to hearing from you soon and taking the discussion ahead.