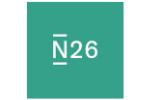 Company Size: in the US about 70 people
250 Hudson Street, New York, NY 10013
Founded: 2013 in the EU - launched in the US in 2019
N26 is the mobile banking platform that is redesigning banking for the 21st century. Technology and design empower everything we do and it's how we are building the global banking platform the world loves to use.
N26 launched in the U.S. in 2019 and already has over 500,000 customers. We've eliminated physical branches, paperwork, and hidden fees for an elegant digital experience and supreme savings. Giving people the power to live and bank their way is what gets us out of bed in the morning and inspires the work that we do.
Founded in 2013, N26 now has more than 7 million customers in 25 markets across the world. The company employs more than 1,500 employees across 8 office locations: Berlin, Barcelona, Madrid, Milan, Paris, Vienna, New York and São Paulo.