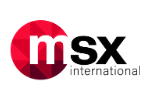 Company Size: 180 - 200
MSX International s.r.o. Hungarian Branch Office – Bocskai ut 134-146. Dorottya Udvar, Building D Floor 01, 1113 Budapest
About MSX International
With over 6,000 employees based in more than 80 countries across the globe, our teams provide industry leading expertise that spans:
Warranty & Technical
Parts & Service
Retail Performance Management
Customer Engagement
Fleet & Mobility
Building trust since 1931, our proven track record means that we now partner with almost every car manufacturer on the market.