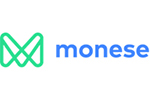 Company Size: 300
Av. Dom João II, nr. 35, 11th Floor 1990-083 Lisboa, Portugal
Founded: 2013
Monese revolutionizes banking for expats and digital nomads. Residency restrictions imposed by traditional high street banks are one of the single greatest barriers to accessing the banking system when they arrive in a new country. Our breakthrough technology can validate the identity of customers in real time enabling customers to open an account in a matter of minutes, using a mobile app. Monese's fully-featured banking account comes with cheap global payments and a contactless debit card.
Our fast growing team is located in London, United Kingdom, Tallinn, Estonia and Lisbon, Portugal, and we know that what we're building is bigger than anything on the market today.