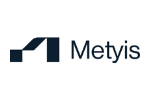 Company Size: 500+
Rua Alfredo Allen 455, Sala 1.01Porto, Portugal
Founded: 2013
Who we are: 
We are a dynamic and forward-thinking consultancy firm that operates across a wide range of industries. Our multidisciplinary teams create bold strategies and innovative solutions that are tailor made to our client's needs that enable them to capitalise on opportunities. Together we strive to bring long-lasting impact and celebrate collective victories.
Metyis' work environment unifies creative problem-solving and strategic thinking. We provide resources to visionaries who understand the direction that the world is moving. Tomorrow's world is data-driven. It is digital. It is international. We are Metyis. Partners for impact.
What we do: 
Our selection of services stands to equip clients with the knowledge and tools to maximise their potential. Strategies are designed with a long-term vision and targets are set with a clear direction to drive continuous progress. Our services empower our clients to streamline information flow and support growth, strengthening the core and harmonising operations.
They enable data-driven decision-making and allow clients to face the future from a place of understanding. Metyis' approach to consulting is fresh and vibrant and pioneers customisation that allows us to attentively advise and guide clients through a hands-on implementation process.
Services:
. E-commerce
. Big Data
. Technology
. IoT & Design
. Management & Digital consulting