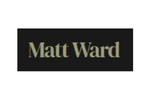 Company Size: 1
Dennlerstrasse 10
Founded: 2021
Hi, my name is Matt Ward and I'm a serial entrepreneur, growth marketer and ex-VC podcaster turned consultant and Venturelab business coach that helps mission-driven businesses change the world faster with guidance on strategy, growth and fundraising.
My company helps startup and SMEs grow and scale faster through aligning proven growth and business strategy tactics to reach larger audiences, increase revenues, improve business models & processes, and make a bigger impact with their efforts.
By bringing years of experience (and painful lessons learned) building & exiting companies, helping others do the same and working in and around the startup/venture ecosystem, my business helps companies (from scrappy upstarts to the Fortune 500) take their organization to the next level.
If you're building something meaningful in the world and your business needs a proven combination of multi-industry experience and outside-the-box thinking to help strategically scaling your company, we should work together.