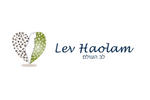 Company Size: 50
LULEEM OFFICE CENTER, Kfar Etzion, 9091200, Israel
Lev Haolam is an organization that supports local Jewish business owners in Judea and Samaria who are suffering because of the anti-Israel Boycott, Divestment and Sanctions (BDS) movement.
Lev Haolam gives the opportunity to support these Jewish pioneers and their families through our Surprise Monthly Package Project. Our members receive monthly packages filled with goods produced by the families and small businesses of Judea and Samaria.
We search out small family businesses in Judea and Samaria to purchase unique Israeli products to include in our monthly surprise packages. We make large orders from them which helps them to develop the land of Israel. Every month we pack our surprise boxes with their products and ship them all around the world!
The Lev Haolam office is located in Kfar Etzion, one of the first modern Jewish settlements in Judea. Our office is part of a shared work environment with several Israeli enterprises.