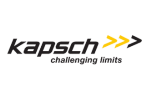 Company Size: 4220
Kapsch TrafficCom Am Europlatz 4 1120 Wien
Founded: 1892
The world of Kapsch.
At Kapsch TrafficCom, we are working on making a sustainable future for traffic a reality. We are developing innovative solutions for transport and traffic in the areas of smart urban mobility, connected vehicles, tolling, traffic management and traffic safety.
Through our forward-thinking solutions, we have a clear goal: Getting from A to B in a comfortable, safe, efficient and sustainable way. In this endeavor, we also focus on a sustainable value creation process.
Our innovative and creative teams work cooperatively around the globe on solutions for the problems of today and tomorrow, answering the questions of the future of mobility, like:
How can cities like Buenos Aires, Mumbai or Madrid influence traffic flows to the benefit of their citizens and the environment? How does a car have to communicate with its surroundings to drive autonomously and safely? And how can we improve the traffic experience for each individual participant?
Answering these questions takes curiosity, creativity and cooperation – the values that the future of mobility needs, and the values that Kapsch TrafficCom lives.
Shaping the future with passion for technology
We are around 4220 colleagues worldwide who work with passion, freedom and perspective – both in developing our sustainable solutions and in shaping our career paths. We are all an important part of the company and are supported from the very beginning, allowing career progress based on our individual skills and goals.
This makes Kapsch an excellent employer, a global corporation, a family business, a traditional company and an innovator all at the same time.
Find your career path at Kapsch
Would you like to gain your first work experience while still at school? Why not do an internship with us! Or would you rather get off to a flying start after graduating from high school? A technical apprenticeship or direct entry after the HTL technical baccalaureate offers you the opportunity to do just that. Do you want to go to university after graduating from high school? Apply for our trainee program after completing your master's degree. No matter what your personal path looks like, there are many ways to become part of the innovative Kapsch team.
Sounds interesting to you? Check out the latest job offers and then take your chance and become a part of the Kapsch family.