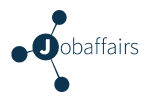 Company Size: 7
Freudenauer Hafenstraße 16, 1020 Vienna
Founded: 2017
JobaffairsPersonal- und Mediaagentur GmbH
Einfach gute Recruiting- und HR-Projekte
Als Mediaagentur schalten wir Ihre Anzeigen in den Online- oder Printmedien, über die Sie ihre Zielgruppe am besten erreichen können – das können aber auch ungewöhnliche Offline-Konzepte sein. Socialmedia-Kampagnen konzipieren und führen wir sowohl lokal als auch international durch – unsere Schwerpunkte sind Österreich, Deutschland und die Schweiz.
Wir sind einer von zwei LinkedIn-Silber-Partnern in Österreich.
Als Personalberatung finden wir den Best Fit für Ihre offenen Positionen – mit klassischen Recruiting-Projekten, mit Active Search oder Direktansprachen. Wir sind in sozialen Netzen unterwegs und setzen in unseren Projekten KI-basierte Software ein. Mangelberufe denken wir anders und erschließen dadurch neue Zielgruppen, ein besonderer Schwerpunkt ist Female Recruiting. Skills checken wir mit individuell vorbereiteten Tests ab, in der Auswahl achten wir besonders auf einen Social und Cultural fit, mit Assessments machen wir individuelle Kompetenzen sichtbar. Als Single Point of Contact kooperieren wir mit unserem Netzwerk "Die Recruiter" mit anderen Personalberatungen, die andere fachliche Schwerpunkte (z.B. SAP) abdecken.
Als Unternehmensberatung begleiten wir unsere Kunden in allen HR-Themen, von der Konzeption von Recruiting-Strategien bis zu unserem besonderen Schwerpunkt: Female Leadership. Wir begleiten Teams, entwickeln Führungskräfte und stellen mit der Radiosendung und dem Blog #elevatortalks_upwherewebelong interessante Role models vor. Wir sind in der österreichischen Forschungsszene vernetzt und haben gute Kontakte zu staatlichen Förderprogrammen.
Jobaffairs Personal- und Mediaagentur GmbH
Simply good recruiting and HR projects
As a media agency, we place your ads in the online or print media through which you can best reach your target group – but these can also be unusual offline concepts. We design and execute social media campaigns both locally and internationally – our focus is on Austria, Germany and Switzerland.
We are one of two LinkedIn Silver Partners in Austria.
As an HR consultancy, we find the best fit for your open positions – with classic recruiting projects, with active search or direct approaches. We are on social networks and use AI-based software in our projects. We think differently about shortage occupations and thus open up new target groups, with a special focus on female recruiting. We check skills with individually prepared tests, pay particular attention to social and cultural fit in the selection process, and use assessments to make individual skills visible. As a single point of contact, we cooperate with our network "Die Recruiter" with other personnel consultancies that cover other specialist areas (e.g. SAP).
As a management consultancy, we accompany our clients in all HR topics, from the conception of recruiting strategies to our special focus: Female Leadership. We accompany teams, develop leaders and present interesting role models with the radio show and blog #elevatortalks_upwherewebelong. We are connected in the Austrian research scene and have good contacts to government funding programs.