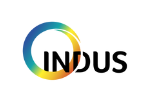 Company Size: 160
2nd Floor, Krislon House, B Wing, Krishnalal Road, Saki Naka, Krishanlal Marwah Marg, Saki Vihar, Andheri East, Mumbai, Maharashtra 400072
Indus OS is a content and app discovery platform for users, app developers, and OEMs. It is specifically designed and developed for the unique needs and diverse lingual preferences of smartphone users in emerging markets like India.The brand houses India's largest indigenous Android app store, Indus App Bazaar. It has a strategic partnership with Samsung and powers its flagship app store, Galaxy Store, in India since 2019.
Indus App Bazaar focuses on localization, personalization, and ease-of-use. It leverages AI and ML to enable a seamless app discovery journey by delivering contextual app recommendations while helping developers with multi-point distribution and monetization opportunities. It currently serves 400k apps to its 200+ million users in English and 12 Indian languages.Indus OS aims to shoulder India into a new digital age by bridging the barriers between app developers and smartphone users and offering a personalized mobile experience.