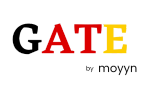 GATE is a cutting-edge training academy by Moyyn, dedicated to empowering students, job seekers, and career change aspirants with practical, hands-on experience in the latest and most innovative technologies. Our mission is to bridge the gap between traditional education and the fast-evolving world of next-generation technologies.
At GATE, we understand that the digital landscape is constantly evolving, and to thrive in today's competitive job market, individuals need more than just theoretical knowledge. That's why we provide a dynamic learning environment where students can gain real-world experience in the most in-demand tech fields, equipping them with the skills and confidence they need to excel in their careers.
Our comprehensive training programs and boot camps cover a wide spectrum of next-generation technologies, including Data Science, Data Analysis, Blockchain, Product Management, Digital Marketing, Talent Acquisition, Software Development, IT Support, and more. We believe in a hands-on, project-based approach that allows our students to apply their knowledge in practical scenarios. Our experienced instructors are industry experts who are passionate about sharing their insights and guiding students toward success.
Whether you're a recent graduate looking to kickstart your career, a professional seeking a change, or someone who simply wants to stay ahead in the technology race, GATE is your gateway to a brighter future. Join us on this journey of exploration, skill development, and innovation, and embark on a path to becoming a technology leader in the ever-evolving digital landscape.