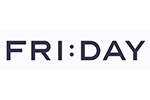 Company Size: 51-200
Klosterstrasse 62, 10179 Berlin, Germany.
Founded: 2017
We are FRIDAY.
The first car insurance that feels like the best day of the week.
Friday works completely paper free and is callable monthly.
How would we make a contemporary insurance work?
Our motivation is the idea of an insurance that fits better into our time and the
life of our customers. Within only 6 months, we have built up Germany's first
truly digital car insurance.
And there's still a lot to do. To change the insurance world, we are developing a
completely new concept in Berlin – insurance policy in only 90 seconds,
terminable monthly, pay-per-kilometer.