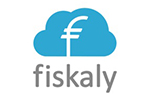 Company Size: 2-10
Stutterheimstraße 16-18 / 2/20 e, A-1150 Wien
Founded: 2015
The Fiskaly team consists of technical and financial experts. Since 2015, we have been developing innovative solutions for the fiscalization of business cases.
The philosophy of fiskaly
Our philosophy is to simplify the stringent and costly constraints and business restrictions imposed by lawmakers on electronic cash register and recording systems. We develop modern solutions to support all companies that use cash register systems or billing and accounting programs.