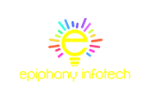 Company Size: Under 10
D-151, 3rd Floor, Phase 8, Industrial Area, Sahibzada Ajit Singh Nagar, Punjab, India 160059
Founded: 2019
Epiphany Infotech is a website designing, website development, Mobile App development and Digital Marketing company, providing services to enterprises across the world. Epiphany Infotech is an organization driven on latest trends in technology and helping the next big thing, becoming the next big thing.
Our services are unique combination of best UX and UI practices, strong development and marketing approach. We adeptly handle every aspect of website development, from design, programming, copywriting and graphic design to complete development and branding of your website.
Teamwork is in essence of Epiphany Infotech. The quest for acquiring new talent is always ongoing. Forever searching, experimenting, innovating, learning, moving ahead with our sincere efforts and dedication, shaping the future, and challenging ourselves to create new opportunities, is a never-ending process.
Started with hands full of resources with just a vision in mind and the zeal to provide quality work to the clients and quality work environment to the staff, we look forward to change the game and make a world of difference. Our work , Client satisfaction, achievements records speaks for us. We believe in long term relationship with our clients and prefer word of mouth marketing in addition to the traditional methods as references builds trust and trust goes a long way.
Epiphany Infotech take care of your technology management needs so that you can focus on the fun part. We assure to deliver maximum value to our clients with an affordable prices. Epiphany Infotech's skill sets are widely spread in:
Web-Designing
Web-Development
Mobile Application
Development and Maintenance
Customized solutions
Quality Assurance