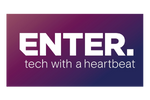 Company Size: 250
Enter B.V. Beemdstraat 7 5653MA Eindhoven
Founded: 2001
We are ENTER
As ENTER we employ high-tech professionals, who work on various projects, mostly in the Brainport region around Eindhoven. This is the main high-tech hub in the Netherlands, with companies that work on a variety of products and solutions. ENTER's software professionals are involved in projects to bring their products to market. We value software craftmanship and we aim to build functional, maintainable, and scalable products.
Like our professionals, we go the extra mile and always try to create success in the long term, both with our clients and with our colleagues. We know the most challenging projects are taking place on the client's premises. That is why at ENTER, we don't focus on outsourcing projects. By working closely with teams, we are aware of what is going on in the high-tech industry.
Your career at ENTER
All our professionals are hired on a permanent basis, independent of any specifi c project. We have a large and valuable network and know what is going on in the market and at our clients in great detail. Therefore, we are able to advise you about possible client projects that might be a match and help you prepare for client-meetings.
As a software professional at ENTER, you will work full-time as part of the client's team, on their premises; typically for a period of 1 to 3 years. Which project you will be working on, will be determined together with you. We select and match projects and professionals through focusing on experience, ambitions, personality, and, of course, a passion for technology. Your soft and technical skills also play a role in making the ideal match.