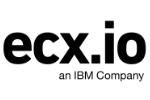 Company Size: > 350
ecx international GmbH Plange Mühle 1 40221 Düsseldorf
Founded: 1995
We are ecx.io – an IBM company. For more than 22 years we have been working with our customers to identify opportunities in the digital world and to realise their full potential. The passion and motivation that this requires provides us with a common goal – creating a better digital tomorrow.
Since 2016 we are proud to have been a part of IBM iX, the global agency family of IBM, where we act as one of the leading digital agencies in Europe with more than 350 employees at sites in five different countries.
With a focus on digital platforms & ecosystems and strong expertise in digital marketing and e-commerce, we work with innovative concepts and agile processes at the interface of strategy, creativity and technology.