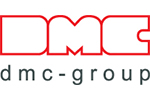 Company Size: 51-200
DMC Austria Vienna Wurmsergasse 35/19, A - 1150 Vienna.
Founded: 1984
The dmc-group consists of six traditional medium-sized companies, each with a track record of decades of success. They form a strong network that together advises and supports customers and develops individual solutions.
In 1989, the company expanded to Austria (DMC Datenverarbeitungs- und Management Consulting Ges.mbH) and five years later, the service portfolio was expanded with the addition of IFTT EDV-Consult GmbH, a renowned provider of training and workshops, which has been in Frankfurt for over 20 years is working.