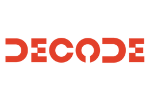 Company Size: 60
Torres de Lisboa - Rua Tomás da Fonseca, Torre G, 7ºC, 1600-209 Lisboa
Founded: 2019
Born in 2019 in Portugal, we belong to a multinational group with 20 brands, +5000 employees and offices in 11 countries.
We specialize in Digital Consulting in the areas of Web and Mobile development, Business Intelligence, Big Data Analytics, and UI/UX. Our purpose is to address the challenges created by the relationship between management, transaction, and processing of business data with the ever-evolving user experience.
It is in exploring the symbiotic relationship between these areas, through the development and implementation of innovative solutions, that DECODE seeks to bring added value to the market.