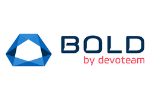 Company Size: 900
Torre Fernão de Magalhães, Av. Dom João II 43, 9 piso 1990-084 Lisboa
Founded: 2009
BOLD is a technology company focused on developing and delivering innovative technological solutions through a unique combination of technology expertise and agility, maximizing business value for our clients. 
Our solutions are based on a highly technical and specialized knowledge, which combine creativity, agility and design. We work everyday with specialized teams that bring their technical know-how to the development and innovation of all our projects. 
Our focus when it comes to supporting our client's digital journey is about clear choices that build & develop skills in a very targeted way.
Since 2018, BOLD by Devoteam has been part of the Devoteam Group, a global leading player in Digital Transformation for leading organisations across EMEA, with a revenue of €800M. Together, we share a common vision of transforming technology to create value for our clients, partners and employees in a world where technology is developed for people.