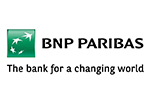 Company Size: 200 000
Torre Oriente, Av. Do Colégio Militar, 37F, 13º piso - 1500-180 Lisboa, Portugal
Founded: 1848 (In Portugal since 1985)
BNP Paribas is a leader in the Eurozone, and a prominent international banking institution with strong roots in Europe's banking history. It has a presence in 71 countries, with 200 000 Employees – including more than 150 000 in Europe and 6 000 in Portugal alone.
BNP Paribas is present in Portugal since 1985, having been one of the first foreign banks to operate in the country. Today, the Group has several entities operating directly in this territory, offering a wide range of integrated financial solutions to support its clients and their businesses.
Thanks to its international presence and regular and close collaboration among its businesses, BNP Paribas has the resources to support all clients — individuals, entrepreneurs, SMEs, large corporates, institutional investors and community organisations — with financing, investment, savings and protection solutions that help make their projects a success. BNP Paribas holds key positions in its three core operating divisions: Domestic Markets and International Financial Services for retail banking and specialised financial services, and Corporate & Institutional Banking for corporate and institutional clients.