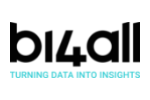 Company Size: 350
Avenida Marechal Gomes da Costa, nº 27, A/B, Armazém 1
Founded: 2004
BI4ALL is a Multinational company, created in 2004, highly dynamic, young and passionate about technological innovation. We are leaders in consulting services with excellences skills in Digital Transformation and Data Strategy. Focusing on Analytics, Big Data, Data Science, Artificial Intelligence, Data Visualizations, CPM, UX/UI Design, Business Analysis and Software Engineering.
Innovation is in our DNA and together we contribute to the development of organizations by turning data into insights. Our Mission is to offer the best solutions to our Clients, and help them to achieve their goals with success. We create Magic with Data! We are the Best Place to Work!