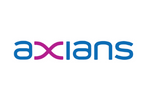 Company Size: 1400
Edifício Atlantis Av dom João II 44c piso 5 Lisboa
Founded: 2017
The world is more connected than ever before and the pace of change is bewildering. We deliver the best combination of technology and services to enable our clients to fulfill the diverse needs of their customers. By fostering a deep and personal relationship with our clients, we want to improve the lives of people and organizations.
Axians is the VINCI Energies brand dedicated to ICT and Digital Transformation. We're present across 27 countries, with more than 12 500 employees and annual revenue of more than 2.7 billion euros, in 2021.
The best of ICT with a human touch