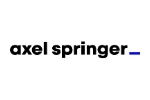 Company Size: Over 16.000 Employees
Axel Springer SE Axel-Springer-Str. 65 10888 Berlin
Founded: 1946
Axel Springer is a media and technology company and active in more than 40 countries. By providing information across its diverse media brands (among others BILD, WELT, BUSINESS INSIDER, POLITICO Europe) and classifieds portals (StepStone Group and AVIV Group) Axel Springer SE empowers people to make free decisions for their lives. Today, the transformation from a traditional print media company to Europe's leading digital publisher has been successfully accomplished. The next goal has been identified: Axel Springer wants to become global market leader in digital content and digital classifieds through accelerated growth. The company is headquartered in Berlin and employs more than 16,000 people worldwide.