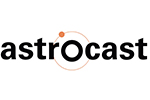 Company Size: 40
Chemin de la Dent d'Oche 1B, 1024 Ecublens, VD
Founded: 2015
Astrocast, in partnership with Airbus and Thuraya is building a network of leading-edge nanosatellites in Low Earth Orbit to provide cost-effective IoT services to the 90% of the world not covered by cellular systems.
Astrocast low cost modems collect and transmit data from sensors or other customer assets and transmit them to our satellite network. The collected data is stored on the satellite and then forwarded to ground stations located around the globe. The ground stations forward the data to the cloud database, which is easily accessible to clients.
Astrocast's mission is to strive at building and maintaining the most advanced and sustainable satellite IoT communication network to track assets, monitor the environment and save lives.