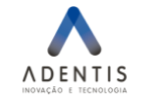 Company Size: 210
Avenida Barbosa du Bocage 113 – 1º Esq,1050-031 Lisboa
Founded: 2016
PT
A ADENTIS Portugal é uma consultora focada na inovação e especializada no desenvolvimento de projetos na área das Tecnologias de Informação. Nasceu no ano de 2000, em Paris, e em setembro de 2016 surgiu a ADENTIS Portugal em Lisboa, através da criação do centro de competências, com o objetivo de constituir o braço tecnológico da marca para o mercado internacional (neste momento também já estamos no Porto).
Atuamos no mercado com três vertentes de execução: Outsourcing, Customized Solutions e R&D_Lab. Investindo no bem-estar das nossas Pessoas, tanto pessoal como profissionalmente, com uma comunicação transparente, formação constante e diversos eventos sociais, a ADENTIS Portugal tem vindo a registar um crescimento gradual, tendo terminado 2020 com uma faturação de 5,9€ Milhões de Euros (crescimento de 26% face a 2019) e uma Equipa com cerca de 170 colaboradores. Temos um plano de desenvolvimento de carreira, oferecemos formação técnica, linguística e comportamental e patrocinamos também exames de certificação para atingires os teus objetivos profissionais.
Av. Barbosa Du Bocage, 113, 1º Esq. 1050-031 Lisboa | 21 139 71 67 | work@adentis.pt | www.adentis.pt
ENG
ADENTIS Portugal is an IT consulting company focused on innovation and specialized in developing projects in the IT ecosystem. ADENTIS started in Paris in 2000 and in September 2016 we created a tech center in Lisbon that aims to support Clients all over Europe (we're already in Porto as well). Our offer targets three different areas: Outsourcing, Customized Solutions and R&D_Lab.
Investing both on the personal and the professional well-being of our people, through an open-minded communication, constant training sessions and several social, cultural and sport events, ADENTIS Portugal has been growing every year closing 2020 with 5,9 million euros (a 26% increasement compared to 2019) and a team of 170 employees .
We offer an effective career plan, technical, language and behavioral training and we sponsor professional certifications for you to achieve all your goals.