Interviews for jobs aren't simply a one-way street where the potential employer evaluates your suitability for the post; they're also an excellent chance for you to determine whether the organization and position correspond with your objectives and career goals. When the interviewer becomes the interviewee, the importance of asking the appropriate questions becomes clear. But how do you stand apart in a sea of common inquiries?
Welcome to our blog, where we'll provide you with a formidable arsenal of 24 genius questions to ask a technical interviewer that will impress your potential employer and help you find important facts about the corporate culture, your possible job, and the route to success. Whether you're an experienced professional working to advance your career or a recent graduate entering the workforce, these questions can help you make intelligent choices and land your dream job. Let's check out 24 easy questions to ask a technical interviewer that should be asked to the interviewer and leave a great impression.
24 best questions to ask a technical interviewer:
Brainstorming questions to ask a technical interviewer can be a challenging task. Do you know that qualitative researchers have made extended use of many interview forms? They concluded that 70% of people feel satisfied and confident if the interviewers ask them, "Do you have any questions?"
The HR experts and career advisors of Resume Genius compiled great questions to ask the interviewer and let him feel confident about your personality.
To boost confidence, read –5 Ways to Boost Confidence Before Interview
1. What are the day-to-day responsibilities of this role?
Famous writer Annie Dillard said, "How we all spend our days is similar to how we spend our lives." Happiness and success in a job can boil you down to contentment with an everyday routine.
2. What is success like in this position, and how can you measure it?
You must have an in-depth knowledge of how the company measures your success in future years. You can ask about your role's KPIs (Key Performance Indicators).
3. Is there any opportunity for professional growth?
It is one of the top questions to ask in a technical interview. While asking this primary question, you want to know about the growth opportunities, professional developments, and whether the company allows a learning program. This way, stagnation can happen, so be alert for the red flag.
4. What are the most challenging and robust aspects of this job?
Knowing the goodness of any position is as important as knowing the challenges you might face. You ask for the problems and understand the scale of these challenges you will face in the future.
5. Who will be working closely with me?
The interview question will help you understand the company's dynamic. You can ask for their names and titles. It is good to evaluate the cross-functional role.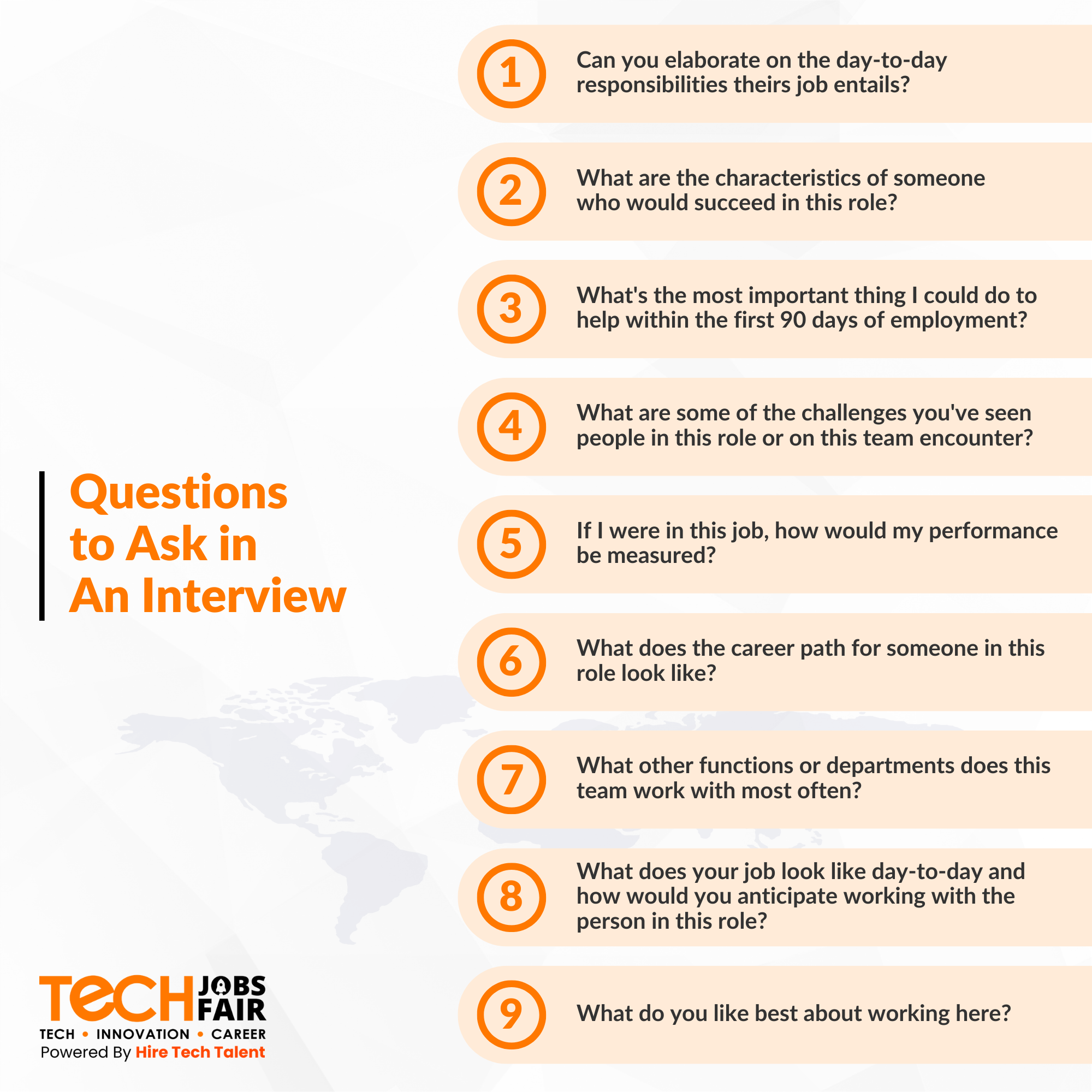 6. What is your favorite thing to know about working in a company?
It is one of the top questions to ask in a technical interview. You need to take your interviewer's opinion on working at the company. If you see signs of enthusiasm, then it is good for you. But if you didn't see the excitement, it is now worth a workplace.
7. Does anything about my professional background make me not a good fit?
The question shows you are invested in knowing about the job and the company. You are commanded to understand the significant prospects of the company as a candidate.
8. How can you describe any typical day in my role?
It is one of the top questions to ask in a technical interview. The question gives you an idea of this job demand. You can ask what kind of contributions and responsibilities are upon you.
9. What will be the typical working week?
You can easily ask what the average working hours are and how much overtime is expected.
10. Is relocation expected?
Knowing these interview questions will allow you to plan the resources and relocation for spending.
11. How many people are working in your department?
You can ask this question to know about your team. In this way, you can inquire about the scope of growth.
12. What does my job position report?
It is one of the top questions to ask in a technical interview. The question will enable you to evaluate the future reporting heads and how long you will work with them.
13. What is the style of your company's management?
Ask this question because it lets you check if the company's working style matches your temperament.
14. Why did someone previously quit this job? Or why is this job available?
You should get clear thoughts about whether this job is opening up success doors for you or if you already hire someone for this job.
15. Do you know about any reservations related to my qualifications?
It is one of the top questions to ask in a technical interview. If your qualification doesn't match the job requirement, then it is a chance for you to get a clear answer in between the interview.
16. What are the working prospects for advancement and growth?
You should check if the company has sufficient opportunities to let new employers grow. If the opportunities are only available for senior workers, then working in this company is unnecessary.
17. How soon would you allow me to join if I get hired for this job?
The question allows you to plan your job schedule before getting the joining letter.
18. When will I hear from you?
You will have an exact idea of how long you will wait to know about their response.
19. How many leaves can I expect?
It gives you an alert flag of how many leaves you can have upon company policy.
20. Do you provide me with development opportunities for leadership?
Check if the company gives you leadership opportunities for getting new skills.
21. What are the company's plans for future growth?
Every company has predefined plans for future growth. You can ask for a future growth plan.
22. Do you have a policy for motivating new people on the board?
It is one of the risky questions to ask the interviewer. Many companies have an onboard program but prefer to keep them private.
23. What would be the biggest reward if I started to work in this company?
It is the easiest way to share with your interviewers that you are ready to connect with the company. It gives them an idea of your confidence and motivation towards his company.
24. What are the previous examples of career paths in this position?
The questions make you feel more confident about taking your career path with the interviewer.
Conclusion
The interview is a two-way process, so go for the interview preparation first. You can build a great connection with the interviewer by asking some great questions we shared in our guide.
Looking for Dream Job? We can help! Click Here
The Job Fair for Tech & Digital Professionals is an excellent opportunity to find or change to a new job, learn from the best IT & Digital industry experts, and network with peers. Get Your Free Ticket
Join 20,000+ Subscribers
Get exclusive access to new tips, articles, guides, updates, and more.