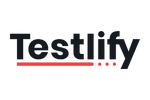 Company Size: 40
1st Floor, Bhanu Jyoti Building, L.N. Road, Matunga CR (E), Mumbai, Maharashtra 400019
Founded: 2022
At Testlify, we give Superpowers to HRs by helping them predict who to hire reducing screening and hiring time by up to 75%.
Recruiting is complex, time-consuming, and risky. We take the stress out of finding the best candidates with deep analysis that's accurate, automated, and unbiased.