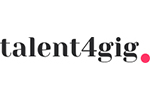 Company Size: 6
Birkenstrasse 17, Brüttisellen, Zurich 8306, CH
Founded: 2018
Talent4Gig is a leading developers assessment platform in Switzerland for companies seeking developers and specialized professionals.
We focus on helping companies find the right developer at a reasonable price. We specialize in evaluating experienced professionals and unique skills. Every assessment is
reviewed by a trusted expert and is evaluated to find the right fit for the job.
Every company deserves to hire the best talent without putting their business on hold.